As a creative research project, a series of  OpenLabs are the heart of the European Theatre Lab.  At these two day events, partners are invited to push the boundaries of theatre with the help of new instruments. The one-of-a-kind format brings together distinguished artists, scholars and scientists from theatres and research institutions. They result in concrete creative projects, reports and policy recommendations.
The Advisory Board and 7 partners are working in 3 teams to investigate one of these 3 issues: new technologies & aesthetics, new technologies & audience participation, new technologies & communication dissemination. The programme of each OpenLab is structured around key ideas: experience, brainstorm, connect. Interfering directly with the 3 specific creative projects of the partner theatres, the overall aim of the OpenLabs is to provide deeper insight in the technology that is needed to actually put these projects in place. We are working with local partners in industry, university and other institutions in order to enhance new cooperation models and to better connect art and technology. In addition, with a general perspective on the newest digital tools on stage, the OpenLabs are meant to inspire and enrich the visions for a theatre of the future.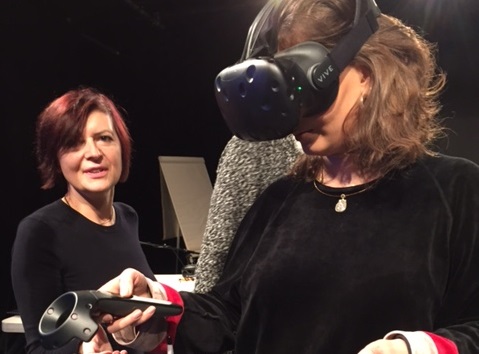 Theatremakers having fun with virtual reality.
Review OpenLab 1
The series of seven OpenLabs kicked off in Nancy, France, in November 2016. Here you can find the video documentation and the report on our experiments with VR and AR, guided by the artists from ZKM Center for Arts and Media (Karlsruhe, Germany) and Human Games (Nancy, France).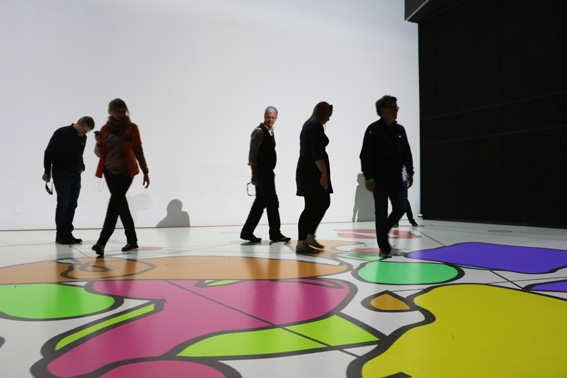 Real or a projection? Exploring interactive games in the Deep Space 8K exhibition.
Review OpenLab 2
The second OpenLab was hosted by Ars Electronica, the renowned institute for arts, technology, and society based in Linz, Austria. In presentations by participants of the AE Future Lab and adjoint media artists and game designers, we got an overwhelming insight to the state-of-the-art in digital performing and immersive arts. Click here for the first of three reports on this experience.