As a creative research project, a series of OpenLabs are at the heart of the European Theatre Lab.  At these two-day events, partners are invited to push the boundaries of theatre with the help of new instruments. The one-of-a-kind format brings together distinguished artists, scholars and scientists from theatres and research institutions. They result in concrete creative projects, reports and policy recommendations. The Advisory Board and 7 partners are working in teams to investigate the following issues:
New technologies & aesthetics
New technologies & audience participation
New technologies & communication dissemination
The programme of each OpenLab is conceived around three key activities intended to foster experiential research, brainstorming, and new connections. Directly aligning with the creative projects of the partner theatres, the overall aim of the OpenLabs is to provide deeper insight into the technology that is needed to execute these projects. For example AR and 3D video for the project "Stage your City", innovative subtitling/overtitling and captioning technology for "Dub it: One voice, many languages" and latest audio tools for "Make distance non-existant". Every Lab is working with local partners from industry, academia and other institutions in order to develop new models of cooperation and better connect the arts and technology. In short, the OpenLabs are meant to inspire the theatre sector and create a rich vision for a theatre of the future.
The OpenLabs are open to the public. Please get in touch if you want to join in!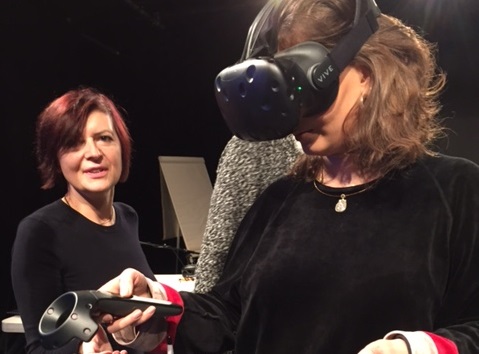 Theatremakers having fun with virtual reality.
VR and AR experiences: OpenLab 1 at Théatre de la Manufacture, Nancy
The series of six OpenLabs in the European Theatre Lab kicked off in Nancy, France, in November 2016. It was exciting to experiment with this format for the first time – and with VR and AR, guided by the artists from ZKM Center for Arts and Media (Karlsruhe, Germany) and Human Games (Nancy, France). We invite you to have a look at the blog post with video documentation and some interesting insights.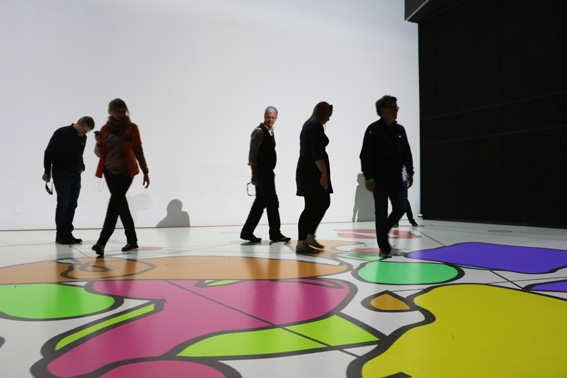 Make a step and change the world around you. Exploring interactive games in the Deep Space 8K exhibition.
Digging deep into digital art: OpenLab 2 at Ars Electronica
The second OpenLab was hosted by Ars Electronica, the renowned institute for arts, technology, and society based in Linz, Austria. In presentations by participants of the AE Future Lab and adjoint media artists and game designers, we got an overwhelming insight to the state-of-the-art in digital performing and immersive arts. We have summarised the experience with three blog posts, which contain the presentation and useful link